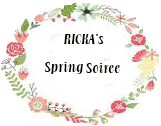 Spring Soiree at Chelo's on Thursday, March 14th, 2019 at 6:00 p.m.
Our monthly meetings resume in March, but we will take a break from our usual lecture series and start off our 42nd season with our third annual Spring Soiree. For many years, the Spring Soiree was RICKA 's annual banquet.
This year we will be returning to Chelo's in Warwick. Come join your friends as we relive stories from the past and make plans for the future.
We have reserved the upstairs area of the restaurant for the evening. Everyone will be responsible for their own food and drinks. (Chelo's will add an 18% gratuity due to the size of the group.)
Chelo's Warwick is located at 2225 Post Road, Warwick.
Please RSVP to Sharon Dragon at shdrag1@gmail.com if you plan to attend.
We look forward to seeing you at this fun event.
Directions to Chelo's Warwick: From Route 95 North or South take exit 13 to Route 1 – T.F. Green Airport. After 1.3 miles take the exit for Post Road – Route 1. Turn right on Post Road. Chelo's Warwick will be a short distance down the road on the right at 2225 Post Road, Warwick, RI 02886.