2019 Greenway Challenge – September 28 (rain date Oct. 5), 8:30am – 4:00pm
<![if !vml]>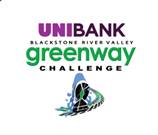 <![endif]>Are you up for a challenge? Then consider signing up to participate in the regions premier adventure race – The Greenway Challenge. The mission of the UniBank Greenway Challenge is to promote the recreational quality of life in the Blackstone River Valley. This annual event includes running, road bike, mountain bike, and paddling segments which can be run as either a team relay or individual. Participants range from weekender to competitive. Typically run through one of the most beautiful and historic regions of New England, the Blackstone River Valley National Heritage Corridor located between Worcester, MA and Pawtucket, RI., this year's race will run downriver (north to south) with the course yet to be revealed. A typical course (different every year) may include 2 road runs, 1 trail run, 2 road bike, 1 mountain bike, 1 river paddle, and 1 lake paddle. For more information about the Greenway Challenge and to check out last year's course, results, and photos click: https://greenwaychallenge.org/.
RICKA (including family and friends) is looking to field a team or teams to participate in this year's race. Stay tuned for more details as the course is revealed but, in the meantime, please contact Gary Powers garpow28@aol.com to request a spot on a RICKA team. Include your segment choice(s) and how many of the segments you wish to participate in (run/bike/mt. bike/paddle).
RICKA will pay the registration fees.
Write up by Erik Eckilson